OGH Oinai Guest House Taruya-cho – a unique accent in a machiya house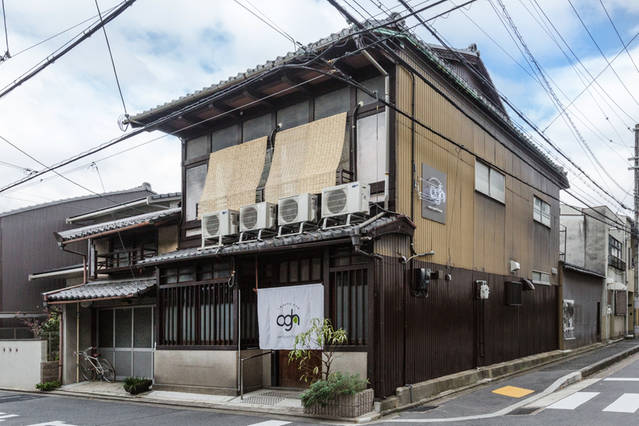 OGH Oinai Guest House Taruya-cho - a unique accent in a machiya house
Oinai Guest House is just two blocks down from Nijo-jo castle, one of the popular place to visit among the world heritage in Kyoto. 
It's whole house rent guest house with two stories and spacious rooms. It allows to stay up to 9 people in the guest house.
'Oinai' means 'Come here' in Kyoto dialects. It is renovated to be the place where people gather and make one step forward. 
Oinai Guest House Taruya-cho looks like it has the traditional machiya style from the outside, but you'll find it has a sense of modern designs when you enter the guest house.
It was renovated by the architectural design company. They made the house has the sense of fun in its interior design within Japanese traditional architectural style such as the zen garden.
There are two spacious living rooms next to the kitchen on the 1st floor.
The kitchen is very spacious for a Japanese traditional house, which is usually has a smaller kitchen.
It has two sinks , and the cooking tools and table wares are fully equipped – the important thing if you love cooking when you travel !
Perfect rooms to relax and even spark your ideas.
On the 2nd floor, there are two bed rooms with Japanese style futon mattress and with beds.
Both has windows to let the sunlight and the outside air in. Japanese style room has alcove space as you can see in the picture below.
There is another unique room with high round ceiling on the 2nd floor. 
You don't feel that you're in the same house since this room is separated from the other two bed rooms. It's unusual to machiya Japanese house to have round shaped ceiling, and the white painted ceiling and walls. 
You can relax here sitting on the tetra shaped sofa while reading a book, or even work on your PC. Spending a time in this atmosphere would give you new ideas for your work. 
It has two wash basins and toilets to stay comfortably for guests with many people in the group.
Oinai Guest House Taruya-cho is the great choice when you want to stay comfortable and work. You can work at the guest house and also at the coworking 'Oinai Karasuma', which manages the guest house. 
In the north of Oinai Guest House Taruya-cho, there are areas such as Kyoto Gyoen (the former Imperial residence and the park ) or Nishijin area, where is famous for the textile. 
For more useful information on working spaces or supermarkets in the areas in Kyoto, check out the 'Area' pages !
ogh Oinai Guest House Taruya-cho
Taruya-cho 450, Nakagyo-ku, Kyoto city, Kyoto
<Room type>
Whole house rental only (up to 9 people, 3 beds & 6 futon mattress) 
: 2 rooms on 2F, 3 rooms on 2F, 1 kitchen, 1 bath and  2 toilets