SPACE KANTE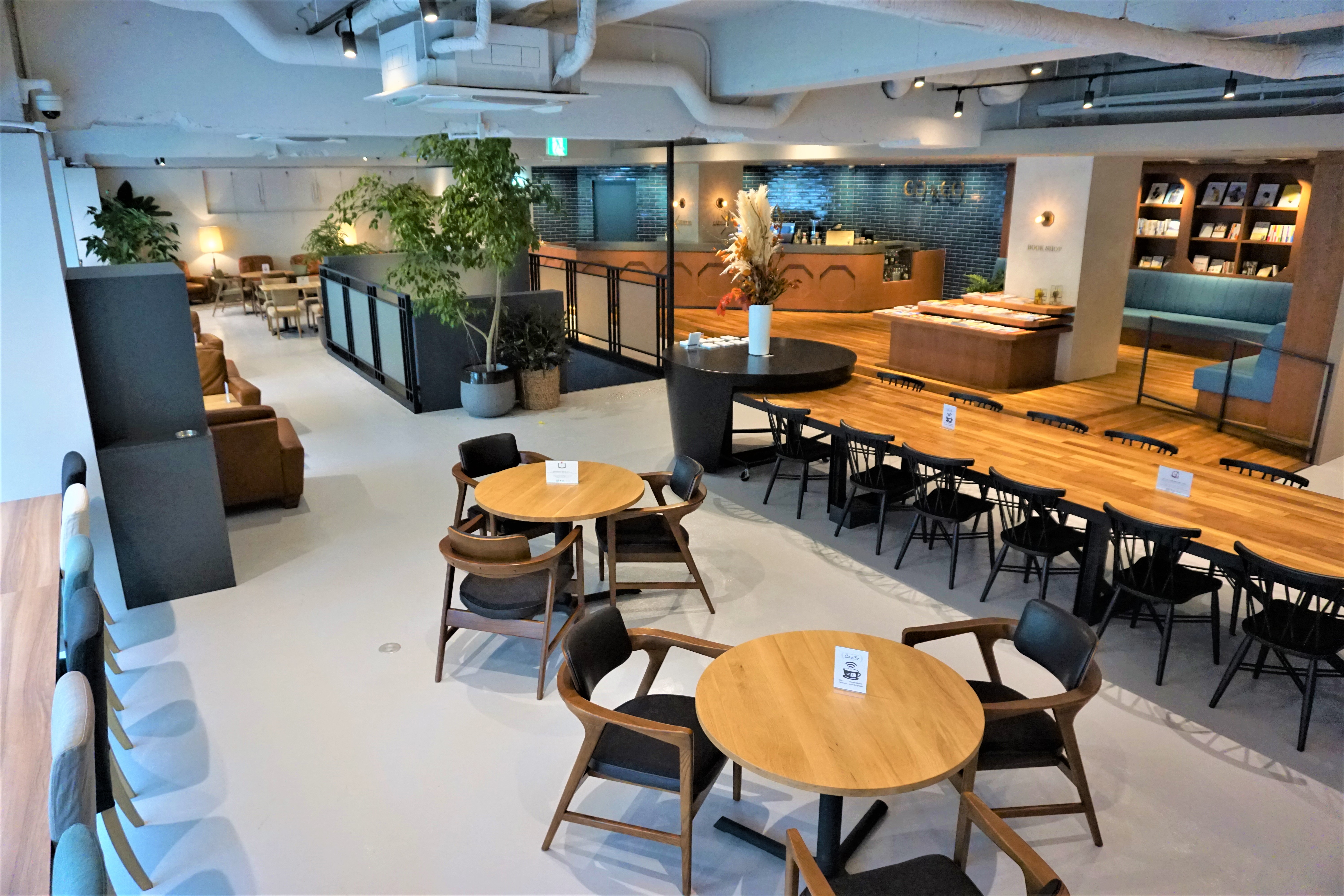 SPACE KANTE - a coworking space with international culture
SPACE KANTE is a coworking place located in the central of Kyoto and only 5 minutes by walk from Shijyo-Karasuma crossing which has two train stations. 
It is on the 2nd floor of the building facing to Karasuma street, one of the biggest street that runs north-south. You don't miss the entrance it if you find the sign on the road.
It's quite spacious with many open-seats. With the wide windows facing to the broad street, the entire working space is bright and open.
Fast and reliable Wifi is available throughout the building and electric outlets are also available.
At the cafe&bar, you can get nice coffee a staff makes one by one for you. They use the beans from Arabica Kyoto, which has nice aroma to fresh you up on working. 
While the seating nearby the windows are bright, the sofa by the cafe&bar is rather calm with the deep blue color and soft lightnings.  
Another charming point of SPACE KANTE is the book shelves with plenty of the books and magazines selected by the staffs. There are about 3,000 books about travel, language learning, business or studying abroad.
There are many events hold at SPACE KANTE such as workshops or meetups on certain theme, and some of them are conducted in English. 
As the operating company also runs a language school, you can find the opportunities on the bulletin board to learn Japanese or get to know Japanese culture.
There are also meeting rooms, phone booths, a locker room and individual desks for members. 
Even if you're not a member, working or just reading your favorite book at SPACE KANTE would definitely  make your time in Kyoto great. 
SPACE KANTE
Tearaimizu-cho 670, Nakagyo-ku, Kyoto city, Kyoto
Weekday : AM 10:00 – PM 10:00
Saturday & Sunday : AM 10:00 – PM 7:00
Membership 
 – JPY 20,000 registration fee + JPY 500 facility maintenance fee
JPY 8,880 / m
JPY 11,500 / m with free usage of the meeting room up to 2h / d (only 1PM~6PM)
Optional choice
 – JPY 500 / d for the individual desk
 – JPY 1,500 / m for the locker room
Non membership
 – No registration fee
JPY 2,000 / d
JPY 1,000 / d  after 6PM
 – JPY 500 for the meeting rooms
WE ARE LAUNCHING ACHICOCHI SOON.​
Interested in our service? Subscribe here!
We will notify you about our official launch schedule & any new updates.