Gosho-nishi area – a touch of the old capital city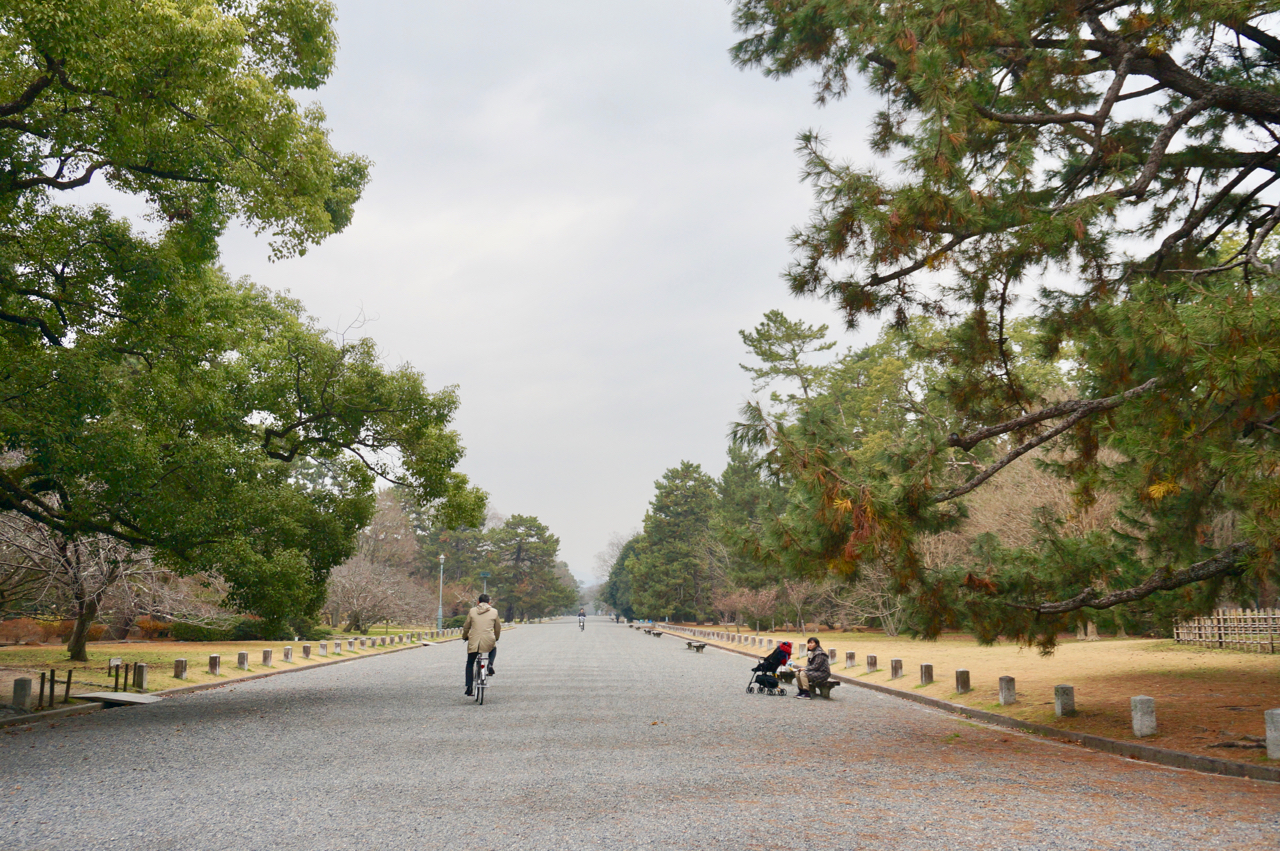 Gosho-nishi area (West side of the Imperial Palace) - a touch of the old capital city
Kyoto Gosho, Kyoto Imperial Palace used to be the residence of Japan's Imperial family until 1868,  when the emperor and capital were moved from Kyoto to Tokyo. It is located in the spacious Kyoto Imperial Park (Kyoto Gyoen),  which has the 1,300 meter long and 700 meter wide. The complex is enclosed by long walls and consists of several gates, halls and gardens. Visitor can see enter the Palace without any advance reservation from AM9:00 to PM5:00  (Closes earlier during winter) except Monday and special holidays.
Kyoto, the former capital city of Japan  
On the west side of Kyoto Gosho,  Kyoto Imperial Palace, you can find the old calm streets with machiya, traditional Kyoto houses stretching from the north to the south, and the east to the west. Some of those houses are used as Guest house, which will make your stay special.  
The area is located between Nishijin area, which is famous for Nishijin textile and Nijyo castle – both are the places which make you imagine how Kyoto would be like in hundreds of years ago.  
Throughout the area, Horikwa river runs along Horikawa street. It was originally built in the 8th century with the construction of the old capital city of Kyoto. It was used as the canal for carrying the woods, water supply to the gardens in the aristocrat's residences during that time. It is now maintained as water-friendly walk path for locals and visitors. 
Guest House GOSYO NISHI : Guest house (Whole house rent)
  > See more information

Impact hub Kyoto : Coworking space
 – AM10:00~PM8:00, Colosed on weekwnds and holidays
 – JPY 1,000 / day for non-members, JPY 3,000~25,000 / month for members
 > See more information
Ducks Kamigyo Chiekouin Store : Drugstore
 – AM9:00~AM0:00
Fresco Horikawa Store : Supermarket
 – AM9:00~PM10:00
Life Nishijin Store : Supermarket
  – AM9:00~PM10:00

Familymart Chojya Kameya-cho Store : Convenience store
  – Opens for 24h
Seven Eleven Chiekouin Kamichojyamachi Store : Convenience store
  – Opens for 24h
Doshisya Uni. Keishikan Fitness : Fitness center
  – AM10:00~PM9:30 
  – JPY 1,100 / day 

Izumiya Horikawa Marutamachi Store : Shopping mall
  – AM9:00~AM0:00
Ryugu Onsen : Public bath 
  – PM3:00~PM11:00, Closed on Thursday
  – JPY 430

Chojya-yu : Public bath
 – PM3:10~AM0:00, Closed on Tuesday
 – JPY 430

Looking for comfortable long term stays? Check availabilty here!
Please fill out below form to book accomodation. We will reply you once we confirm your booking request.