Shirakawa – water front with sense of history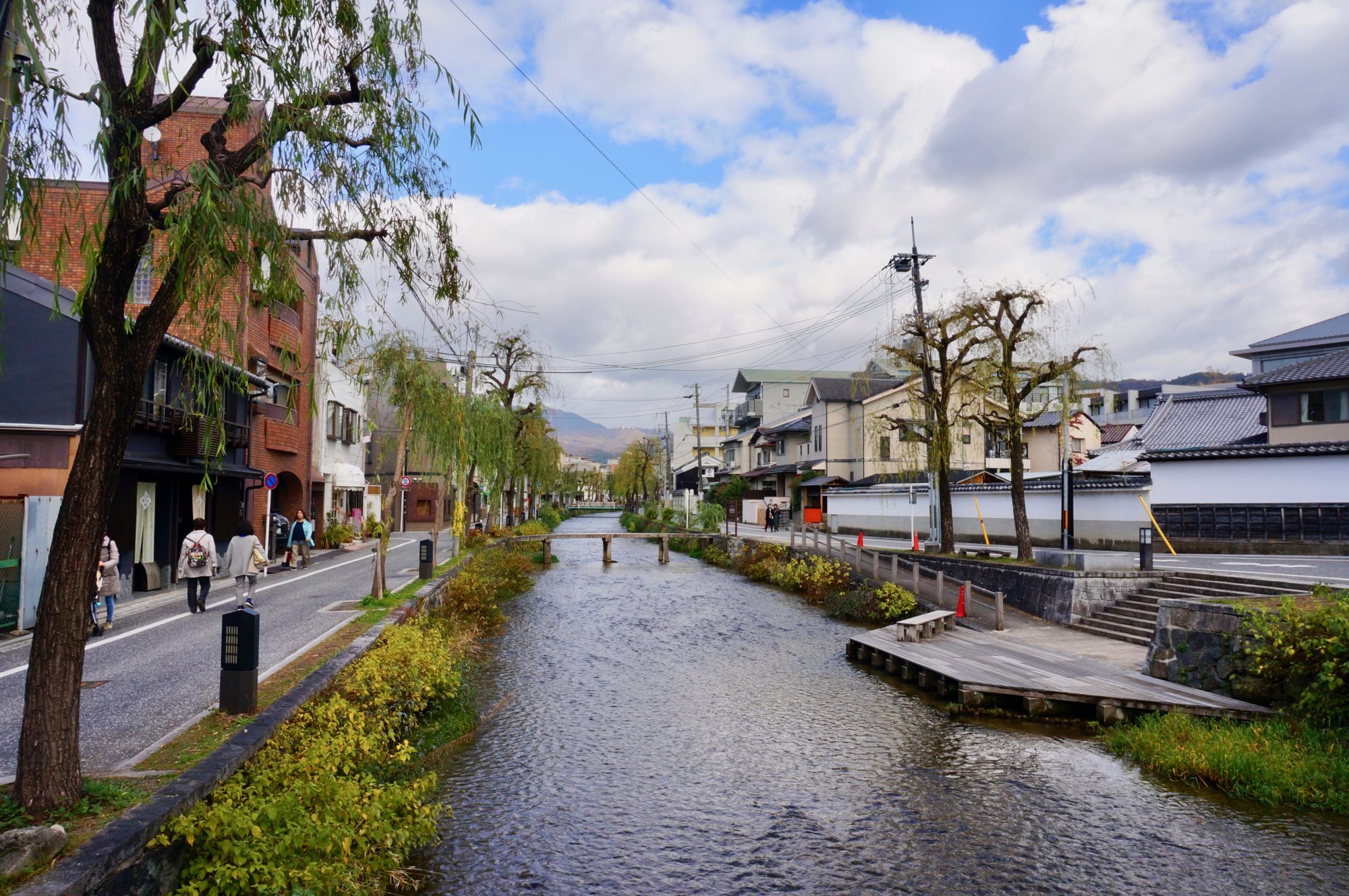 Shirakawa area - water front with taste of history
Shirakawa is the name of the area between Gion and Okazaki that runs along the Shirakawa river. Shiramawa is a small, calm river running through Gion area to the Kamogawa river. It has been loved by local people for a long time as the part of their life. 
Now it's known among both Japanese and visitors from overseas as one of the best place to take memorable photos standing on the narrow bridge on the Shirakawa river. 
Feel the moment of time
It has different atmospheres along with the time and seasons. During daytime, it gives calm but warm feeling to people who visit Shirakawa. In the evening, it can be nostalgic atmosphere.  At night, it gives the a little romantic impressions with lights along the river. 
Furukawa-cho shopping street is old shopping street stretching along the Shirakawa river. It has a long history where you can find both the old stores such as a chicken butcher or a knife shaping store, and new place like a craft beer bar. It would be a great experience if you stay in or near Sirakawa area while you feel how the town looks like. 
The great thing about Shirakawa area is that it is close to Gion are, which has famous  shirines and temples like Yasaka shrine. Gion is also has many places to enjoy night life.  
You  can even walk to the Kamogawa river, where is the best place in Kyoto to chill out, run or read a book etc.
YUNOKIAN : Guest House (whole house rent) 
  > See more information
OKI's Inn  : Guest House
  > See more information
HOSTELNINI ROOM : Hostel
  > See more information
Fresco Petit  Higashiyama Sanjyo Store : Supermarket
  – Opens for 24h

Oda Pharmacy : Pharmacy
  –  AM9:30~PM7:00, Closed on Sunday

GOLD'S GYM Kyoto Karasuma : Fitness center
  –  Weekday and Saturday AM7:00~PM11:00 / Sunday AM9:00~PM8:00
  – JPY 6,000 for 2 weeks visitor use 
JOYFIT Karasuma Oike : Fitnesscenter
  – Opens for 24h
  – Monthly member JPY 7,999~
Familymart Tsukamoto Gion Higashiyama Store : Convenience store
  – Opens for 24h
Atarasih-yu : Public bath
  – PM2:30~AM0:30, Closed on Friday
  – JPY 430
Kyoto Sanjyo public bath : Public bath
  – PM4:00~PM11:00, Closed on Sunday
  – JPY 430
Laundry Sentaku-kan Higashiyama Sanjyo Store : Laundromat
  –  Opens for 24h
  –  JPY 1,200 for wash / JPY 100 for dry / JPY 1,300 for wash and dry
MTRL KYOTO : Coworking space
  –  Weekday AM 11:00~PM10:00 / Weekend AM11:00~PM7:00
  –  JPY 500~ up to 3 h
 > See more information 
andwork Kyoto : Coworking space
  – Opens for 24h
  – JPY 600 per h / JPY 2,800 per day / JPY 25,000~ for monthly member
 > See more information